Denture Options In Boulder
Dentures provide a great, budget friendly solution for missing or deteriorated teeth. Dentures have made many strides forward in recent years. Dentists can now fit dentures better and use superior materials when making a denture. In fact, dentures can be anchored to dental implants to increase functionality and make the denture more comfortable.We provide both regular dentures and implant supported dentures in our Lafayette dental practice.
Regular/Traditional Dentures:
The custom denture is different from the implant supported denture because it is removable, which means it doesn't require dental implants, and is more budget-friendly. Even though removable dentures have been around for a while, they continue to offer a good solution to missing teeth. At our office in Boulder, Dr. West can make you a set of dentures that are custom-fit to your mouth using the highest-quality materials. While custom dentures cannot replace your old teeth, they can give an added sense of comfort and security as you continue to live your life. You will be able to eat, laugh, and smile with a set of teeth that you can be proud of.
---
Implant Supported Dentures:
One of the more recent strides in denture technology is the ability to anchor dentures to dental implants. Implant supported dentures offer increased stability, meaning that you will not have to worry about them slipping loose or coming out when chewing, laughing or smiling. In addition to offering increased stability, implant supported dentures require less maintenance than a traditional denture and provide increased comfort. If you are looking for a secure, comfortable, lower-maintenance denture, the implant-supported denture is an excellent option.
---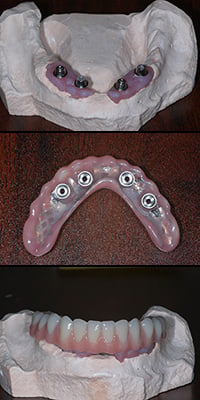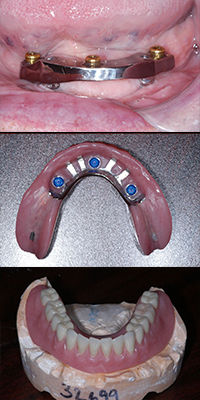 ---
Contact us at our Lafayette, CO office at 720-216-2298 if you have questions about implant supported dentures or custom dentures! If you are curious about dental implants in general, please check out our dental implant page.