The Dental Implants Procedure In Boulder
Dental implants consist of two components: a post that is placed in the jaw bone and a prosthetic tooth at the top. The post of the dental implant is usually made from titanium or a titanium alloy.
Through a process called "osseointegration," the bone actually fuses with the dental implant over a few months, creating a strong and stable anchor for the tooth.
The prosthetic tooth is attached to the dental implant after a few months of healing time has passed and the new "root" has stabilized. Each replacement dental crown is color-matched to blend in with your natural teeth.
Dental implants restore your ability to eat, bite, and chew again, so you can get back to your normal lifestyle.
Dental Implant Procedure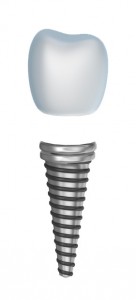 The process of receiving dental implants happens as follows:
After Dr. Johns or Dr. West evaluates whether you are a candidate for dental implants, we take an impression of both the upper and lower arches of your teeth, which we send  to a dental lab for casting.
The casts are used by the dental lab to design a tooth that looks and feels great.
A scanning appliance is created by the lab and returned to your dentist, who checks the scanning appliance for proper fit.
We take a CT scan of your mouth to guide our planning process.
Information from the CT scan is uploaded to specialized software that is designed to precisely identify the optimal position for the dental implants.
Each finished surgical appliance is completed by the lab and returned to Dr. West or Dr. Johns, who will then place the implant post.
The implant posts are then able to bond to porcelain crowns that look and act like natural teeth.
From placement to restoration, we can perform the entire implant dentistry process in our office!
Find Out Whether You're a Candidate for Dental Implants ->
Find Out Whether You're a Candidate for Dental Implants
To learn more about our dental implants, please give Dr. West or Dr. Johns a call at our Lafayette, CO dentist office near Boulder. You can also visit our dental implants website today!