Family Dentistry Lafayette, Colorado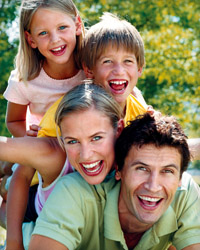 Boulder County Smiles offers excellent general and family dentistry services in Boulder County Colorado, brought to you by Dr. Gordon West, DDS, and Dr. Andrew Johns, DDS.
We want to help your entire family have excellent oral health, which is why we want to welcome your entire household to Boulder County Smiles! From your children's ever-changing dental needs to complex dental issues for adults, we are here to improve your family's dental health with regular dental cleanings, x-rays, and any of the routine dental procedures you may need.
General Dentistry Boulder, CO
We provide a wide range of family dental care services and make every effort to go beyond your expectations by excelling in standard services and keeping up with dental technology. We want our patients to experience quality dentistry that will have them coming back to us!
Popular general dentistry and family dentistry treatments we offer include:
Dental Hygiene or Dental Cleanings: Regular dental cleanings are one of the most effective preventative measures to maintain your oral health. Our experienced staff in Lafayette, CO will ensure that plaque, tartar, and calculus buildup is removed, so your teeth are shiny and smooth when you leave our family dental care office.

Dental Bonding: A misshapen or lightly damaged tooth can be reshaped and repaired using a tooth-colored composite bonding material. For our teeth bonding procedures we mold the correct tooth shape, and then place and harden the bonding material, which instantly restores your damaged tooth.
Dental Bridges: Dental bridges are an excellent option for replacing a missing tooth. Our dental bridges are supported by dental crowns placed on your natural teeth on either side, restoring functionality and aesthetic to your smile. A tooth bridge can also be supported by dental implants.
Dental Crowns: If one of your teeth sustains heavy damage like cracks, breaks, or deep cavities, a dental crown can be used to provide protection and strength. Tooth crowns or "tooth caps" are custom-made from molds of your natural teeth to ensure a natural feel and fit.
Dental Fillings: When dental fillings are necessary, our office uses quality materials, including our tooth-colored composite dental filling. The composite is durable, natural-looking, and healthier than metal tooth fillings.
Gum Disease Treatment: Did you know that gum disease is linked to heart disease? Dr. West, DDS, and Dr. Johns, DDS, offer both standard and advanced laser treatments to patients suffering from gingivitis or periodontitis. Our team can identify and stop the spread of gum disease, restoring health to your gums and teeth for a healthier you!

Root Canals: Teeth can occasionally become infected or damaged over time, regardless of how often you brush your teeth. If the root or pulp of your tooth is damaged, Dr. Johns, DDS, can perform a root canal to remove the damaged pulp or tooth infection, alleviating your pain.
Whatever your oral health concern, bring it to our talented dentists at Boulder County Smiles!
Schedule a Family Dentistry or General Dentistry Appointment Today!
Call Dr. West and Dr. Johns in Boulder county today to schedule an appointment for family dentistry or general dentistry. Our dentists are excited to work with the great people in the Boulder area, so don't wait to call us with any questions you have.