Whiten Your Teeth in Boulder County!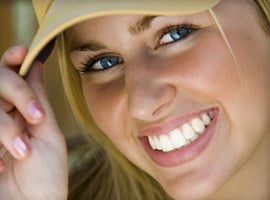 While many over-the-counter whitening options may seem less expensive, they are less effective and can often cause issues like increased tooth and gum sensitivity. Because these products are less effective, you may end up spending more in the long run on these over-the-counter products than you would have on a professional treatment.
Our office in Boulder County, Colorado offers two methods of tooth whitening to help restore a beautiful white shine to your teeth. Come see Boulder cosmetic dentist, Dr. Gordon West, to find out how Deep Bleaching™ and Opalescence® can give you a bright, stunning smile!
Deep Bleaching™ Teeth Whitening


When it comes to teeth whitening, the Deep Bleaching technique produces excellent results. Deep Bleaching is one of the most effective teeth bleaching treatments on the market. The system consists of two treatments in our office combined with two weeks of wearing tooth-bleaching trays at home.
Our Deep Bleaching treatment is easy and effective. We take extra care by applying desensitizing gel, so your tooth whitening experience doesn't cause you problems or make you feel uncomfortable.
Opalescence Take-Home Teeth Whitening


If you would like a brighter smile but would like an option that is less expensive and more convenient, we offer Opalescence teeth whitening. Opalescence is a professional strength teeth whitening system that you can take home.
Although the Opalescence system doesn't work quite as quickly as Deep Bleaching, the Opalescence trays will still whiten teeth by 5 or more shades.
The Opalescence teeth whitening trays are custom-designed for you, so they will be comfortable. You can use the minimum amount of whitening gel needed. You can wear the trays while relaxing in your favorite chair and whiten your teeth while watching a favorite show. You may see the difference in your teeth in as little as one week!
Call Our Office Today!
Tooth discoloration can happen to anybody, no matter how well you take care of your teeth. Over time, our teeth wear down and can become stained by food or drink. If you are self-conscious about your yellowing teeth, our Boulder dentist office in Lafayette can help you get them white again! For more information about our tooth whitening systems, call our Lafayette, Colorado office to schedule a visit today. We can answer your questions or show you how teeth whitening can help the brighter, whiter smile of your dreams become a reality.