Whiten Teeth in Boulder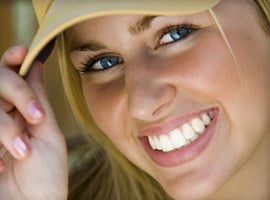 Even with proper tooth care, your teeth can discolor with time. If your teeth need whitening and brightening so that you can proudly show off your smile, our Boulder dentist office in Lafayette can help you get there. We employ two techniques to whiten teeth (explanations below) that will restore the beautiful pearly white shine to your teeth.
Have you not had great success with take-home teeth whitening options before? Not convinced that tooth bleaching treatments will work for you? Come and see Boulder cosmetic dentist, Dr. Gordon West, to learn more about why you should consider Deep Bleaching™ or teeth whitening trays. He will help you find the best solution to give you a bright, stunning smile.
Teeth Whitening Treatment Options:
Deep Bleaching™: To whiten teeth, the Deep Bleaching technique cannot be beat. It is the most effective teeth bleaching technique on the market. It includes two treatments in our office combined with two weeks of wearing tooth bleaching trays at home. Not only is this treatment easy and effective, every teeth whitening treatment begins with an application of desensitizing gel, which makes your tooth bleaching experience effective and comfortable.

Opalescence Take-Home Teeth Whitening: If you want to brighten your smile with a more affordable procedure, this teeth whitening treatment is for you. Though not quite as effective as Deep Bleaching, the Opalescence trays will still whiten teeth many shades and they don't require the time of in-office treatments. We will create a set of take-home teeth whitening trays for you and all you need to do is use the whitening solution with the trays for an hour every day. In as little as a week, you will be able to see the difference in your teeth.

Call our Lafayette, CO office near Boulder and schedule a visit today to learn more about teeth whitening and help that pearly white smile of your dreams become a reality.