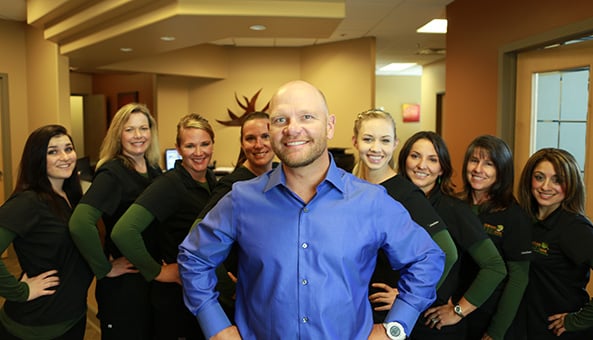 What Makes Us Unique
We believe that optimal dental health can be achieved through the knowledge and experience of our dentists and staff. We want your teeth to look good, feel good, and, most of all, function the way they should.
In addition to our extensive experience, dental technology has advanced in great strides over the last few decades, so getting the smile you want has never been easier.
By utilizing "Instant Orthodontics," we can correct flawed or crooked teeth instantly. We could also use laser dentistry to bring you a comfortable and healthy dental experience that feels like it came from the next century. For patients with missing teeth, prosthodontics has included as many options as it has now, from traditional dentures to innovative dental implants.
The end result of our work at Boulder County Smiles is a beautiful smile that not only looks great but functions properly.
Ali's Story
Our Team Philosophy
Your smile is one of your greatest attributes! A warm smile can help boost your confidence level and help others feel comfortable around you. A beautiful smile can serve as a launching point for life-long friendships, relationships, and business ventures.
When you need to come to the dentist, you should feel comfortable and relaxed! Our team listens to your requests and needs to alleviate anxiety and apprehension you may have about your visit.
During your procedure, rest assured that you are in control and can stop the treatment at any time for a short break. We also provide a pleasant environment and relaxing atmosphere, so your time in our Boulder office can feel more enjoyable and stress-free.
If the atmosphere at our office is not enough to soothe your dental anxiety, we also offer sedation dentistry options. We want you to feel at ease while you get the care you need.
You shouldn't have to settle for anything less than a world-class smile! We can fix minor issues, or create a plan for a complete smile makeover, depending on your situation. Our cosmetic options include bonding, porcelain veneers, and whitening. You can also choose white onlays or white fillings if you want to get rid of your old mercury-silver fillings.
We believe in catching potential problems early. Early detection means easier, less costly treatment. With the help of our high-tech, state-of-the-art Diagnodent laser device, we can find . tooth decay earlier than digital x-rays!  In fact, research suggests that this painless laser device can detect early tooth decay that a traditional examination misses as much as 76% of the time.
We strive to treat our patients with the highest degree of honesty and integrity. We pay attention when you speak, treat you like a guest in our home, and provide you with professional recommendations to ensure you experience the highest levels of dental health.
Experience the Difference Today!
Your personal satisfaction is our mission, goal, and priority. The greatest compliment you can pay us is the referral of your family, friends, and business associates.
Call us today, or fill out the form on this page to schedule your first appointment.