Solutions For Broken and Missing Teeth in Lafayette and Boulder County, CO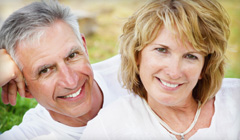 Your teeth have a lot to do in your life, from practical functions like eating and speaking to social interaction at work and school. A full, beautiful smile can add confidence to your lifestyle, which is why we provide restorative dentistry treatment options to replace missing teeth for our patients in the Boulder County area.
Restorative Dentistry Services
Because your teeth are such a huge part of who you are, restorative dentistry focuses on preserving your natural teeth instead of merely replacing them. At our Boulder area dental office in Lafayette Colorado, Dr. Gordon West, DDS, and Dr. Andrew Johns, DDS, offer a full spectrum of restorative dental procedures, including the following:
Dental Crowns in Boulder, CO
A dental crown replaces your damaged natural tooth crown, which is the visible part of your tooth. A dental crown can preserve your natural tooth root and give you a beautiful tooth crown that complements your surrounding teeth. Dental crowns can also be supported by dental implants when a tooth does need completely replaced.
>> Learn More About Dental Crowns
Lafayett, CO, Implant Dentistry
We can place these titanium posts into your jaw that will support a variety of teeth replacement options, including dentures or a dental bridge. We will carefully evaluate whether you are a candidate for implant dentistry and do whatever we can to make this a great solution for your missing teeth!
>> Learn More About Dental Implants
Dentures in Boulder County, CO
This classic method of replacing teeth can come with a twist for patients who qualify. With implant dentistry, we can now offer a more comfortable, stable and permanent method of securing dentures, with implant supported dentures.
>> Learn More About Dentures
Root Canal Therapy Treatment
A root canal removes infected tooth pulp from the core of your tooth. Tooth pulp helps your teeth grow and is therefore no longer needed when teeth reach mature size, allowing us to remove bacteria and save your natural tooth from falling out.
>> Learn More About Root Canals
Dental Fillings
Tooth fillings preserve the integrity of a previously infected tooth and can protect your tooth from further damage from decay. We offer attractive tooth-colored dental fillings to restore your tooth while still preserving the beauty of your smile.
Dental Bridges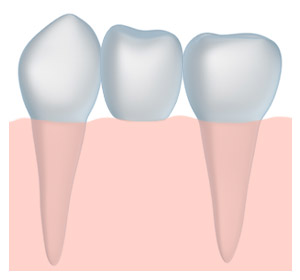 Dental bridges are a great way to restore the aesthetics of your smile. A dental bridge utilizes the strength and stability of your surrounding teeth to "bridge" the gap of a missing tooth with a replacement tooth. Because a tooth bridge can be anchored to natural teeth or dental implants, a dental bridge provides a stable and comfortable solution for missing teeth.
Debby's Story
We want to help you find the option that works best for your unique mouth, so we will recommend the restorative option that works for your health and your lifestyle.
Restorative Dentistry Professionals
Whatever restorative option appeals to you, we have a professional that can meet your needs!
Dr. West, DDS, handles many prosthodontic cases, which is to say that he can use a variety of methods to replace your teeth. From dentures to dental implants, Dr. West is ready to restore the function of your mouth! He can work with patients who need more complex rehabilitations to rebuild beautiful smiles. He even treats TMJ and other types of craniofacial pain!
When you are looking for a dentist to perform a root canal or various implant dentistry procedures, we also have Dr. Johns on staff to help! He can handle your oral surgery needs, which is a real benefit for you. Instead of hunting for an oral surgeon, you can have your procedure done at an office you trust!
Call Us Today to Schedule an Appointment!
At our Lafayette, Colorado dentist office near Boulder, preserving your natural teeth is our top priority. If you have any questions about restorative dentistry, call us to see how our dental professionals can help restore your teeth and your smile!