Dental Implant Dentistry In Lafayette, CO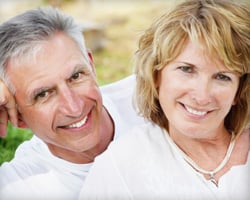 Dental implants are permanent replacements for missing teeth. Thanks to advances in implant dentistry including innovative materials that reflect light the same way as tooth enamel, a dental implant is designed to blend in beautifully with your other teeth.
It only takes one or two visits to Dr. West's Lafayette, CO dental office to receive dental implants. The process is a simple surgery in which a titanium post is attached to your jawbone to anchor the artificial tooth. The bond that forms is strong enough to enable the dental implant to act, look, and feel just like a natural tooth.
Benefits of Dental Implants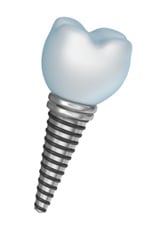 Highly Successful – The success rate for dental implants is in the 90% range – most of the time at 98%.
Long Lasting – A dental bridge might last 7-12 years, but a dental implant can last a lifetime.
More Natural – Dental implants will feel like you are getting your own tooth back.
Aesthetically Pleasing – Enjoy a beautiful smile as implant dentistry restores the look of healthy, natural teeth.
Allow You to Eat What You Want – Dental implants are like natural teeth because they are anchored firmly in your jaw—eat your favorite foods in comfort and confidence.
Preserve Facial Appearance – Implant dentistry preserves the underlying bone structure and facial appearance after you lose a tooth.
Easier to Maintain – It is easier to clean a dental implant and it cannot decay.
Saves Healthy Teeth – Two healthy teeth adjacent to a missing tooth must often be ground down to anchor a dental bridge, but dental implants often preserve neighboring teeth untouched.
More Comfort for Removable Dentures – Implant dentistry can secure a removable denture for better function and comfort.
Learn How Dental Implants Work ->
To learn more about dental implants or to find out if implant dentistry is the right solution for your situation, call Lafayette, CO dentist Dr. Gordon West at 720-862-3630 today or fill out the form at the right of this page. Since a dental implant restoration looks, feels and functions like a natural tooth, dental implants can restore your smile to its intended beauty and function.
For more detailed information about the dental implants offered by Dr. West at our Lafayette, CO office, please visit our main dental implants website!