Beautiful Teeth Veneers in Lafayette, CO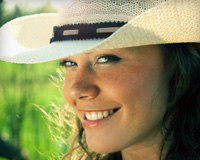 Porcelain veneers are thin pieces of porcelain (sculpted to look like your natural tooth) bonded to the front of broken, damaged, or misshapen teeth to greatly improve the aesthetics of your smile. Dr. West, a cosmetic dentist in Lafayette, CO, creates beautiful veneers for teeth that are matched to your surrounding tooth color so no one will know they are not your natural teeth. Another benefit of porcelain veneers is that, though they are thin, they are strong enough to withstand the normal wear and tear of chewing and biting*. You will be able to chew, smile and laugh just like you would with your natural teeth and your smile will look amazing as well.
*Dr. West will let you know if any special care needs to be taken to ensure that your porcelain veneers stay put and resist wear from chewing or biting.
Porcelain teeth veneers are fantastic solution to these common cosmetic dental concerns:

Covering dark teeth: Don't let discolored teeth keep you from smiling. A dental veneer will cover a dark tooth with porcelain that matches the color of your other teeth so you will be able to confidently show off your smile to the world.
Fixing misshapen teeth: Teeth that aren't the right size or shape can easily be corrected with porcelain veneers. You can easily and quickly get the smile you always wanted!
Repairing chipped or broken teeth: A tooth that is chipped or broken can be easily covered by a dental veneer, making your tooth look good-as-new!
Fixing misaligned teeth or closing gaps: Does one crooked tooth keep your smile from being as beautiful as you want? Tired of looking at the space between your teeth? Veneers for teeth are an easy and instant way to straighten your smile or fill in space, making them look even and beautiful.
Reinforcing worn tooth enamel: Your tooth enamel naturally wears down over time. Porcelain veneers will protect worn teeth as well as enhance your smile!
To learn what veneers for teeth can do for your smile, call our Boulder office at 720-862-3630. Dr. West, the dentist at our Lafayette, CO office near Boulder, will help you decide if porcelain veneers are the best option to restore health to your teeth, and confidence to your smile.