Lafayette dentist Dr. Gordon West is pleased to announce his involvement with the Iraq Star Foundation, a non-profit organization dedicated to assisting war veterans from the Iraq and Afghanistan wars who are recovering from physically disfiguring injuries.
Iraq Star is dedicated to providing the necessary reconstructive surgeries to assist war veterans recovering from physical and mental injuries. It is the foundation's hope that reconstructive surgery will also help our veterans heal from emotional trauma, increase self-esteem and ease their return to their pre-war lives.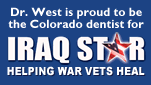 As the Iraq Star dental representative for the state of Colorado, Dr. West will accept injured vets to his cosmetic dentistry practice to reconstruct their teeth and mouths in order to, restore their smiles, increase their confidence and enhance their sense of well-being.
This isn't Dr. West's first community service for military personnel. His yearly Cash 4 Candy program encourages children to exchange their Halloween candy for cash, and sends their treats to soldiers stationed overseas.
Along with past smile makeovers donated to community members in need of dental care, Dr. West is happy to volunteer his services to the Iraq Star Foundation.