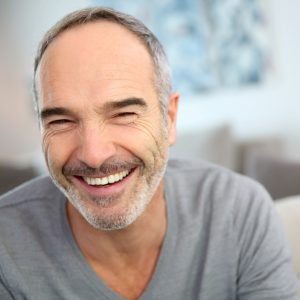 Implant-supported dentures from Boulder County Smiles in Lafayette are total game-changers, when it comes to artificial teeth.
If you haven't heard, dental implants are titanium posts that we insert into the jaw. Within a few months the implant and bone have grown together. Once that has happened, the implant is ready.
Implant-supported dentures are artificial teeth, of course. But they are incredibly lifelike; patients report near-normal biting and chewing ability.
Prevent Bone Loss
One dental implant can support one artificial tooth. Several of them, usually four, can support a full dental arch.
That alone is a tremendous benefit. But just as important is the ability of immplants to prevent bone recession. A consequence of losing a natural tooth and its root is that the underlying bone begins to atrophy. Since a dental implant functions like a tooth root, it helps to top that.
To find out more about implant-supported dentures from Boulder County Smiles in Lafayette, please give our office a call. Patients from Boulder, Louisville, and Broomfield are enjoying the benefits of dental implants. Schedule an appointment today!
Contact Boulder County Smiles:
Location (Tap to open in Google Maps):