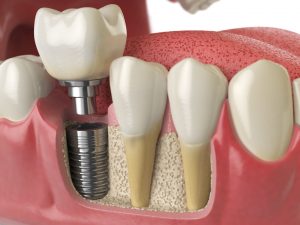 Most dental implants are made from titanium. The reason for this is titanium's unique ability to fuse with human bone. We offer state-of-the-art dental implants at Boulder County Smiles in Lafayette.
For a dental implant procedure, a titanium post is surgically placed directly into the jawbone. After a few months the implant and the bone have grown together. There is actually a word for this property of titanium: "osseophlic," which means bone-loving.
Success Rate
Because of its high compatibility with human bone, dental implants have a success rate of greater than ninety percent. On the rare occasions that there is implant failure, the reason is usually not the implant itself, but infection due to poor hygiene.
For that reason it is essential that you take very good care of your new implant. Care is not much different than ordinary dental health care: the implant and the area around it must be brushed and flossed every day.
To many people, dental implants from Boulder County Smiles in Lafayette seem like a dream come true. People throughout Boulder, Louisville, and Broomfield are enjoying the benefits of dental implants. Please give us a call to schedule an appointment today!
Contact Boulder County Smiles:
Location (Tap to open in Google Maps):